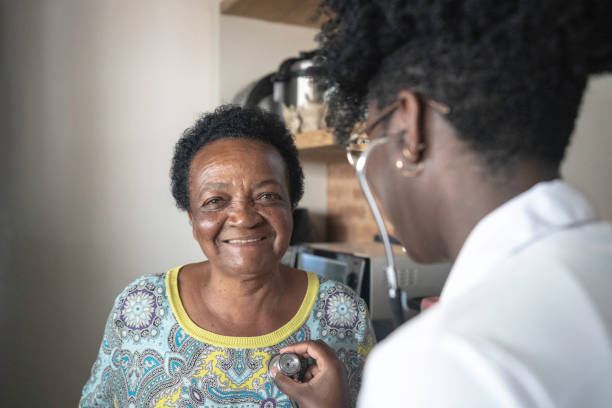 ARE YOU SERIOUS? Eze ask me; Yes, I am. I calmly replied. Eze is my long-time neighbour who's doing really well for himself, he's into electrical appliances installation, repairs and sales.
I was discussing with him about getting some electrical gadgets and the installation when he told me that he would not be available to do that as he has to take his elderly Mum to the General hospital at Alimosho, Lagos for her regular health check-up. I knew his Mum, a lovely elderly woman who's a retired civil servant, she always full of enthusiasm but old age has taken its toll on her.
I commended his kind treatment of his mother but I told him I had a BETTER idea…
Why not bring the hospital to Mama?
… rather than take her to the hospital despite the traffic and long waiting times at the Government hospitals.
With Gerocare, a medical doctor would VISIT mama at home monthly, Mama can also talk and chat with the Doctor whenever she wants and the medical report gets sent to you-the children. He was really surprised. He asked me the common question I always get "Are you serious"? I told him I was absolutely serious, he was so delighted then I noticed a frown, I asked if he was worried about the price to which he replied: Yes.
I smiled at him, it cost N2500 per week as in two thousand and five hundred Naira per week, ten thousand per month which sums up to thirty thousand Naira per quarter (3 months) that is 90 days for all-round care with monthly visits. I joked with him that he spends more that N2,500 weekly on a plate of Nkwobi and drinks weekly when he's chilling with friends.
He exhaled, then relaxed and smiled still wondering if I was truly serious. I told him to click on the link: –
https://gerocare.org/ and register.
As for his friends outside the country especially in the US, for less than $25/month which is paid once as a quarterly subscription (~$75) for one parent. Your aged ones deserve the best and Gerocare gives them just that.
Do you want to know more?
The only downside to Gerocare is you might feel a tinge of jealousy when your parent or parents start to refer to the doctor as my son or my daughter as it's common amongst our elderly ones due to their excellent rapport with Gerocare.
Thank you as you give your elderly ones the best medical care in their comfort zones.