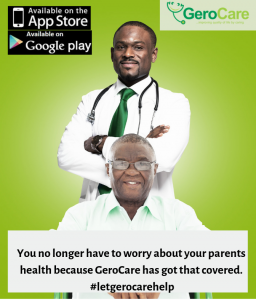 GeroCare is simply a service that allow Nigerians all over the world be it in the U.S, the U.K or even different states in Nigeria to subscribe for regular doctor visits for their parents and elderly loved ones in Nigeria to ensure they not only live longer but have an improved quality of life giving us one less thing to worry about while we face other aspects of our lives.
It provides the added advantage of providing us real time update on this care via the GeroCare mobile application. (For more about GeroCare watch this short 4 minute video – https://www.youtube.com/watch?v=Qz-PkkAfqng)
For the cost of a DSTV Compact plan (N6,300) provide regular doctor visits for your parents and elderly loved ones.
For more info go to www.gerocare.org to sign up directly go to www.app.gerocare.org