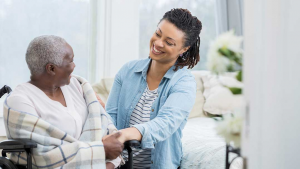 Caregiver is a common term that refers to anyone providing care to a person in need of additional assistance. This could include a family caregiver, a caregiver at home or a primary caregiver. Private caregivers carry out home and personal care-related activities, usually related to one's daily life, and ease a family member's caregiver burden.
There are many forms of care-giving. Many of us are supporting family members and friends who are elderly, sick or disabled every day. We know we help, but we don't talk about ourselves as carers. We are happy to do this and feel motivated by it, but if the demands are high, we can get exhausted and stressed over time as well. In addition to busy work and family schedules, we think we should be able to manage care-giving responsibilities and start feeling guilty and discouraged as our stamina wanes.
Caregiver duties and responsibilities can include:
Assisting with personal care: bathing and grooming, dressing, toileting, and exercise

Basic food preparation: preparing meals, shopping, housekeeping, laundry, and other errands

General health care: overseeing medication and prescriptions usage, appointment reminders and administering medicine

Mobility assistance: help with getting in and out of a wheelchair, car or shower

Personal supervision: providing constant companionship and general supervision

 Emotional support: being a stable companion and supporter in all matters personal, health-related and emotional

Care for the elderly: orienting or grounding someone with Alzheimer's disease or dementia, relaying information from a doctor to family members.

 Home organization: help with organizing, packing or cleaning for a trip, or general house care and cleaning

Health monitoring: following a care plan and noticing any changes in the individual's health, recording and reporting any differences.
Usually, the decision to hire a caregiver is a personal decision governed by various considerations. In some situations, family or friends may recommend that an elderly person hires a caregiver. Alternatively, these loved ones may offer to pay for the caregiver services of an elderly who may not be able to afford them. Some older people may also come to realize that they would like some extra help around the house. Everyone comes to hire their caregiver in their own way, but the motivations are always at least a bit similar.
Sources
https://www.aging.com/what-is-a-caregiver/
https://www.vantagemobility.com/blog/caregiver-duties-responsibilities-home-care
https://www.caregiver.org/caregiving