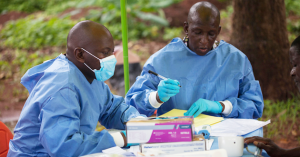 A new Chinese virus called Corona virus, a SARS virus descendant has affected hundreds of people since the outbreak started in December in Wuhan, China. Scientist Leo Poon, who decoded the virus for the very first time, believes it probably started in an animal and spread to people.
Coronaviruses are a class of viruses that cause disease ranging from common cold to more extreme diseases such as the Middle East respiratory syndrome (MERS) and severe acute respiratory syndrome (SARS), according to the World Health Organization (WHO).
It's not clear how deadly the Wuhan coronavirus will be, but fatality rates are currently lower than both MERS and SARS. Experts stress that it will change as the outbreak develops.
Symptoms of Coronavirus
Mild to moderate upper respiratory tract illness, similar to a common cold.
Runny nose,
Cough,
Sore throat, possibly
headache
Fever, which can last for a couple of days.
Viruses can spread from human contact with animals. When it comes to human-to-human transmission of the virus, it spreads when someone comes into contact with an infected person's secretions, such as droplets in a cough. A cough, sneeze or handshake could cause exposure, depending on how virulent the infection is. Touching something an infected person has touched and then touching the lips, nose or eyes can also transmit the virus. Sometimes carers can be exposed by handling a patient's waste.
The elderly people are the most infected by the corona virus. There is also no specific treatment for the virus but the symptoms will go away with time. The WHO has advised that if you experience any of the symptoms consult your doctor immediately. Doctors can relieve symptoms by prescribing pain or fever medication.
Sources
https://edition.cnn.com/2020/01/20/health/what-is-coronavirus-explained/index.html
https://www.aljazeera.com/news/2020/01/coronavirus-symptoms-vaccines-risks-200122194509687.html